Q.
Skin break-outs that have no signs of curing for a long time ? What can be done for this deeply distressed skin?
First, revive your skin and secondly give the skin ability to regenerate.
There are a few reasons for skin break-outs. It can be irritation by exposure to harmful environments for a long time and also in a lot of cases skin breaks out due to deep inner stress. For light break outs on the skin surface, visiting a specialist or changing to another skincare product can help however the problem is those break-outs are derived deep from within the skin. This happens because your skin has lost it's ability to regenerate skin cells quickly, damaging the balance of the skin. People become more conscious on terms such as 'anti aging' as we get older and today's consumers are focusing one step further for products that can not only prevent but help the skin to regain its ability to regenerate and revive.
So what does skin regeneration actually mean?
If we divided the skin largely in to Epidermis which is more closer to the surface and Dermis which is deeper inside the skin, regeneration means the process of creating new skin cells happening every turn over time period. Therefore helping the Dermis to stabilize the turn over period and curing any problem effecting the creation of new cells can result in cleaner, healthier skin from inside. The fundamental role of regenerating skin care is to penetrate deep into the skin layers with active, hydrating nano particles that adjust skin cell arrangements to cure the skin from inside. Also term that always follows skin generation which is 'Night care' is under the spotlight again because it is an accomplished fact that skin regenerates most during night time especially between 10pm to 2am.
Another term related to regeneration is autogenous skin. They are very similar in their meaning but different. Regeneration is more of 'fixing' the already distressed skin while autogenous skin means skin has achieved self healing ability to prevent any unexpected break-outs in the future. For example if your skin is dull, rough, dry and constantly having break-outs you need to regenerate the skin first and then help it to become autogenous to avoid repetition of those problems.
New Technology For Your Skin - White Whitening
When choosing a whitening product, the time where we only focused just on the ingredients and the technology is over. Now, each one of the different cosmetic brands is introducing new evolved whitening care products that are specialised for each skin problem.
The truth and fiction about whitening care - Whitening Trouble is only due to Melanin?
Many people think that whitening trouble is only due to melanin, however whitening trouble is a complex problem that includes anythjng from bad life style habits to vasodilatation. Especially dark circles under the eyes are caused by excessive facial veins and acne scars are due to lowered regeneration capacity. Also uneven skin tone can be an outcome of a bad habit of cupping your chin on one side too often as it can create wrinkle which shade the cheek surface. Therefore, in order to achieve correct whitening solution, fixing not only the skin but the elements in your life that causes the problem is very important.
Is it alright to use both Whitening products and lifting (firming) products?
Your skin doesn't always need an intensive care but you should not neglect it in any way. Even if the whitening care is perfectly done there will be troubles due to saggy skin and even if there are no wrinkles, your skin won't look beautiful if it is dark and uneven. So the ideal way will be to find a complex care for your skin to work on the most worrying skin troubles.
Is it best to get whitening care from aesthetics and clinics?
Many dermatologists emphasise that whitening is not a short term skin care field. After specialised laser treatments or special aesthetic care, your skin may look as if the trouble has gone for couple of months however if you don't look after it continuously you will experience a 'yo-yo effect'. To prevent this continuous home care is most important using the right products for your skin type however going to aesthetics and getting special treatments can boost the effect for faster results.
Spots and imperfections, it is too late for regrets?
UVA and UVB rays which are the direct causes of spots and imperfections start to increase from spring time and reaches it's peak in summer times. Your skin, which is dry, cold and weak due to winter, can easily be damaged by the UV rays leaving spots and imperfections that are hard to remove once they have appeared. So it is best to start your whitening care when the UV rays are not yet strong to protect your skin in advance.
Use whitening products continuously and in advance
Most cosmetic brands recommend that whitening products are effective when used continuously over 1~2 months. This can be better understood regarding the fact that the duration of creating of new skin cells and falling of dead skin cells are usually 28 days. Even though you don't get instant whitening result after 1 or 2 weeks do not change over to a new product as it will take time and effort to work on your skin.
Choose the right product for your skin
When choosing whitening product it is important to think about your skin trouble. For spots and imperfections it will be best to use intensive care products such as highly enriched ample or patches, for dried skin it is better to use cream or serum type products. For sensitive skin, remember to pre-test the product with free samples before long term use, as some of the ingredients in whitening products can cause irritation.
Apply Sunscreen
Sunscreen is the most essential item if you want achieve whitening. Even if you use whitening skincare products continuously it can become useless if you don't apply sunscreen when you go out. Apply the sunscreen a couple of times in a day, especially between 10am to 2pm, as the UV rays tend to be very strong during that time.
3 Step whitening makeup solution
Until now the equation of whitening skin care and make up didn't seem to be successful. Whitening foundation was just light foundation that covered your skin in thick layers. Therefore the whitening concept didn't get much spotlight in the makeup field. However recently there are makeup products that actually cure the skin to achieve whitening effects. Whitening makeup products covers the dark spots to even the skin tone while curing the melanin inside to display glowing and radiating skin.
Most whitening makeup products have UV protection effect so in this case apply small amount of sunscreen. Thick layers of sunscreen over whitening makeup product can cause break outs for sensitive skin.
The main purpose of whitening base makeup product is to make the skin look glowing by light reflection. Therefore many of these products contain pearls and glitter, so it is important to shake well before applying. Also it is better to lightly apply by patting rather than smudging.
If you want to get rid of the dark spots it is best to use whitening essence with spot care products. Skin with many dark spots need spot correcting concealer with UV protection which will improve both whitening and covering effects.
Apply whitening foundation lightly using foundation brush for flawless skin. Also most whitening foundations have excellent sebum control effects than other products so if your skin is dry it is better to use extra moisturizing products.
Apply small amounts in thin layers when using whitening make up products. For example after sunscreen or makeup base lightly pat the powder to just mat the face.
Why is it better to use a cotton pads?

There are many speculations about the use of cotton pads. Some people question why should we use a cotton pad as we can use our hands or that it can be more irritating then applying with hands. However most dermatologist and beauty experts recommend the use of cotton pads.

 
Gently wipe with cotton pads - the first step in your daily skin care

Toner is the first skin care product that makes contact with our face after washing as it's function is to remove minute impurities and smooth out skin texture for the next step. The standard way to use toner is to wet cotton pads and wipe off according to the skin texture. This step not only prepares the skin but balances the oil/moisture levels and boost absorption during the next skin care step. Some call this a second cleansing step, due to the importance of it.

 
Then what are the requirements of a good cotton pad?

The thinner the better as it is less likely to irritate the skin. Thick cotton pads will take up more toner to wet the skin.

Cotton pads with a shiny, smooth surface are more suitable for cleansing or nail polish removing.

Cotton pads with a fine texture like gauze can provide an exfoliating effect and are also good for removing heavy makeup using cleansing oil or cream.

 

Double sided silk cotton pad. One side has gauze like surface to gently exfoliate aged skin cells, sebum around the T zone area while the other side is soft for sensitive areas such as cheek and eyes.

MISSHA The Premium Silk Feel Cotton Puff

 
Recommended ways to use cotton pads: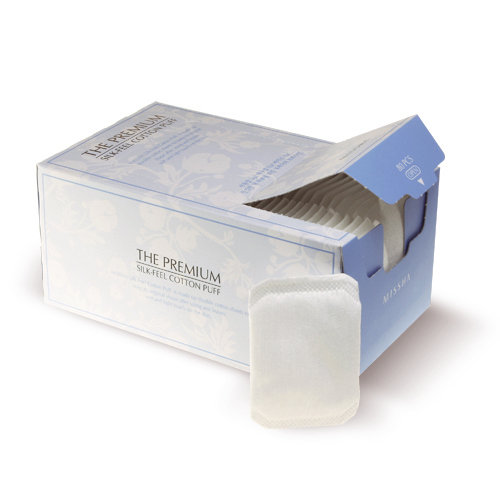 Applying Toner
Wet cotton pads with plenty of toner and wipe all over the facial area. If you have dry or sensitive skin, gently pat with the wet cotton pad for less irritation. Gently wrap the face with your hands to capture the moisture.
1. Wipe off the U zone first and then the T zone from cheek → chin → forehead → nose 
2. With a gentle motion, wipe inside to outside and bottom to top 
3. Wipe from bottom to top over the nose area 
4. Don't forget the neck area and wipe as if you are sweeping from bottom to top. 
5. For drier parts such as the lip and eye areas, place the wet cotton pad and leave on for couple of minutes to provide extra moisture.
Cleansing
Sometime there are limits to how much makeup can be removed with just cleansing cream or tissue. However if you rub too hard it will irritate the skin and can cause facial wrinkles. So to remove heavy, difficult makeup it is preferable to use cotton pads.
1. In the same way as applying toner, apply cleansing cream / oil / makeup remover and wipe off wipe inside to outside and bottom to top. 
2. For removing eye makeup, start from middle of the eye lids towards the temple. 
3. For the nose area where there are lots of black heads and sebum, wipe from bottom to top. Carefully wipe the rounded sides of the nose as well. 
4. The lips and chin area can also have whiteheads and aged skin cells so carefully wipe off in circular motion.
Quick aid for relieving and moisturising the skin
Cotton pads are also useful to relieve swelling and skin troubles or to moisturise spot areas quickly.
1. Wet cotton pads with toner and place in the fridge for a while. When they cool place them on the face area and leave for 10-15 minutes. Remove the pads and pat lightly to absorb 
2. Wet cotton pads with essence and place on troubled spots to get a soothing effect
Cotton Pads - Yes or No?
No - If you have very sensitive and dry skin it is not recommended to use cotton pads when applying toner

Yes - Some people say it is not so good to use cotton pads on blemishes and acne prone skin but actually using hands can irritate them more because of our body temperature. It also gently exfoliates the aged skin cells and controls excessive sebum.